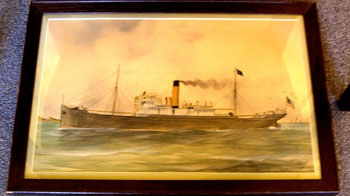 Port Painting of the SS Kerkenna by F. Porcuz
A Gouache on paper of the US Steam ship Kerkenna,
The Kerkenna was 330 ft long,
and was built in 1900,
by the Kerr Steam Ship Co.
for the Scott Hamilton Co.
The painting shows her flying the company flag
from her after mast, and the US flag from the flagstafff on her stern.
The painting is signed and dated,
F. Porcuz 1919.
He was a Mediterranean port painter.
All Items are Guaranteed as Represented 100% !
Claudia & Bob Haneberg
THE HANEBERGS ANTIQUES
By Appointment
860-389-1908