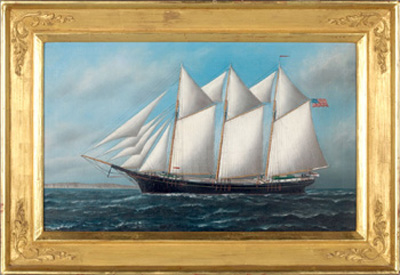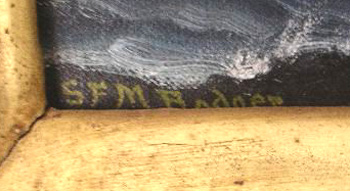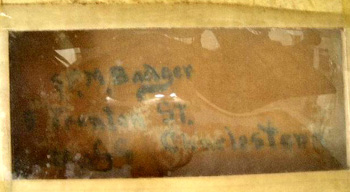 S.F.M. Badger o/c of the 3 Masted Schooner
S.F.M. Badger o/c of the 3 Masted Schooner Thelma.
Signed lower left S.F.M. Badger
and inscribed on the reverse,
S.F.M. Badger, 5 Trenton St, Charlestown, Mass.
The painting depicts a broadside view of the Three masted schooner "Thelma" off the twin lights at Thatcher's Island,
near Gloucester , MA.
She is under full sail,
and flies an American flag from her Mizzen mast.
The sails and rigging are painted with great detail typical of Badgers work.
This painting is one of Badger's best.
The light catches the belly of the sails,
just right and the sky and water are also,
beautifully done.

Dimensions: 18" by 30" sight.
Condition: Excellent condition,
cleaned and religned with minor retouching,
mostly in sky to right of vessel.
The gold leaf frame is a replacement.
The "Thelma" was built in Rockland ME,
by Gilchrist & Keen in 1893.
Her Captain was J.H. Leo.
The vessel was owned by George McQuesten,
Owner of the McQuesten lumber Co.
and carried lumber from Maine to Boston,
and points south.
She was 499 tons, 157.3' long, 35.6' in breadth, and drew 13.2 feet.
Claudia & Bob Haneberg
THE HANEBERGS ANTIQUES
By Appointment
860-389-1908