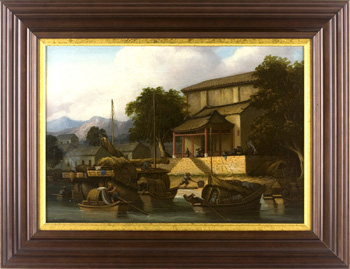 O/C China Trade River Scene
A wonderful O/C China Trade painting of a River Scene,
with Sanpans and Junks plying their trade.
Done in the "English" style,
of George Chinnery (1774-1852)
or his greatest pupil Lam Qua.
Oil on canvas,
relined and beautifully restored.
12 1/2" by 19" (sight)
19 1/2" by 25 1/2" overall
CA 1840
All Items are Guaranteed as Represented 100% !
Claudia & Bob Haneberg
THE HANEBERGS ANTIQUES
By Appointment
860-389-1908