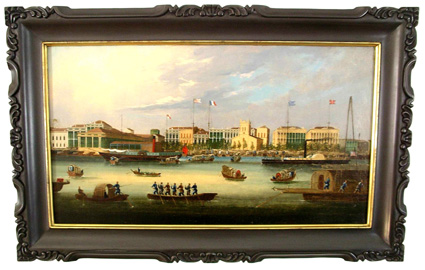 Oil on Canvas of The Hongs at Canton
A Chinese painting of the Hongs at Canton,
showing the flags of the,
French, American, British and Danish
in front of their respective Hongs.
Two sidewheel steamships are in the foreground,
one English and one American.
There are also numerous sampans and other shipping activity.
The painting is very well done with vivid colors and a luminous sky.
Excellent condition, relined and minor retouching.
New China Trade style frame.
CA 1847-1856.
Measuring 14 1/4" by 25 1/4 sight.

All Items are Guaranteed as Represented 100% !
Claudia & Bob Haneberg
THE HANEBERGS ANTIQUES
By Appointment
860-389-1908