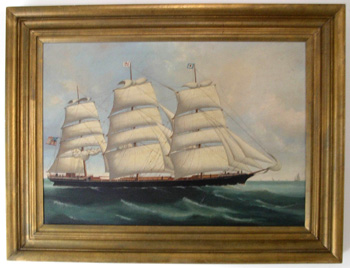 O/C of the Ship Carr Rock
O/C of the Ship Carr Rock,
She is pictured under full sail,
flying the United States flag with
a pilot boat coming up in the background.
The ship's Master was F. Cavell,
and her owner was J. Cornfoot & Co.
The Carr Rock was built in 1889,
in Glasgow, Scotland.
She had a steel hull; 249' long,
39'beam and a 22.3'draft.
She was reported in San Francisco CA in 1889.
The painting has been relined and has minor retouching and crackeluer.
In a newer lemon Gold frame.
Measuring: 20" x 28 1/2" sight.
CA 1889.
All items are guaranteed 100% as represented!
Claudia & Bob Haneberg
THE HANEBERGS ANTIQUES
By Appointment
860-389-1908