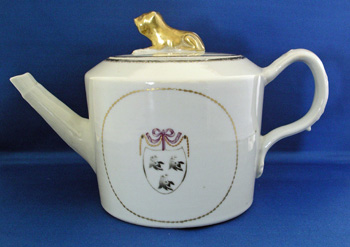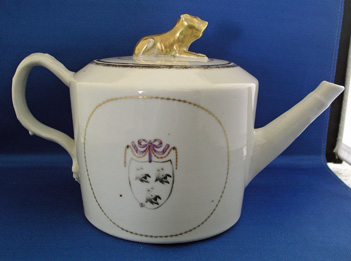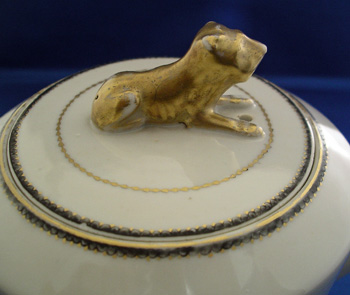 Armorial Tea Pot with British Lion Finial Arms of Booth
An Armorial Tea Pot with British Lion Finial.
Arms of Booth.
This is a rare form because of the Lion finial.
The lid is a bit larger than normal,
to accommodate the finial.
The armorial depicts three boars heads in a shield.
The service was probably made for Richard Booth, of Glendon Hall in Nothamptonshire.
Ref: Howard, Chinese Armorial Porcelain,
T4 PG 653.
Very good condition with a small chip,
on the rim of the tea pot,
and a 3/4" piece of the rim,
inside the pot is missing.
All that you see is the small chip on the rim.

Dimensions: 6 1/2" ht by 10 1/4" spout to handle.
Ca 1790
I also have a tea bowl from the same service.

All items guaranteed 100% as represented!
Claudia & Bob Haneberg
THE HANEBERGS ANTIQUES
By Appointment
860-389-1908