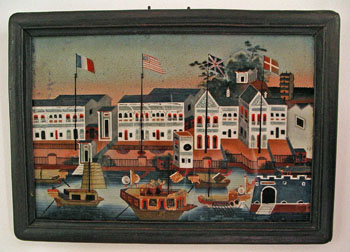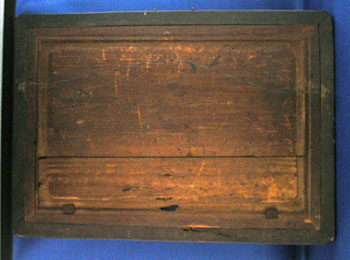 The Hongs at Canton, Chinese Reverse Painting on Glass
The Hongs at Canton
Reverse Painting on Glass.
Done in Canton. CA 1860.

Flying the flags of France, USA,
Great Britian and Denmark in front
of their respective Hongs.

The Dutch Folly Fort and
Chinese shipping are depicted
in the foreground.

The Chinese ships include a Hoppo's boat
and a Flower boat in addition
to the working Junks.

In the original black carved wood frame.
Condition: Excellent condition with
very minor flaking.

9 3/4" by 13" sight.
11" by 15 1/4" overall.

CA 1860.
All items are Guaranteed 100% as represented!
Claudia & Bob Haneberg
THE HANEBERGS ANTIQUES
By Appointment
860-389-1908