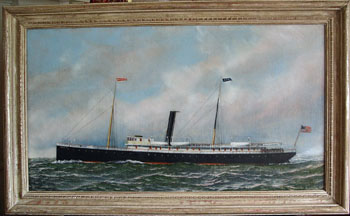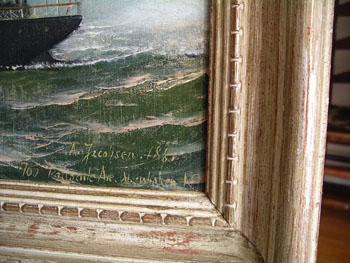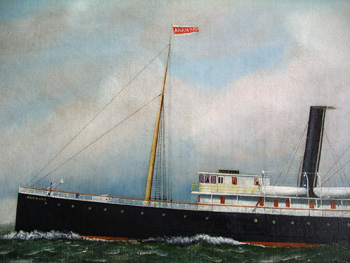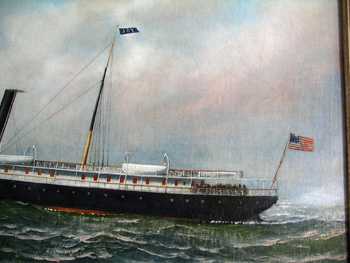 O/C USS ARANSAS by Antonio Jacobsen 1881
O/C USS ARANSAS by Antonio Jacobsen.
A fine early Jacobsen dated 1881.

The Aransas was built by Harland and Hollingsworth in Wilmington, DE in 1877,
She was built for Morgan's Line,
and her Captain in 1881 was Captain Morgan.
She was 240' long and had a 36' beam,
and 18.6' draft.
Her home port was New Orleans, LA.
She carried sugar and passengers
from New Orleans to New York.
She is shown here flying the Joy Line flag,
whom she was leased to at the time.
In excellent fully restored condition.
Relined with in-painting.
measures 35 1/2" by 20" sight and 41" by 25" overall

Book References Antonio Jacobsen, The Checklist. by Harold S. Sniffen, page 35, number 17.
All items 100% Guaranteed as represented!
Claudia & Bob Haneberg
THE HANEBERGS ANTIQUES
By Appointment
860-389-1908