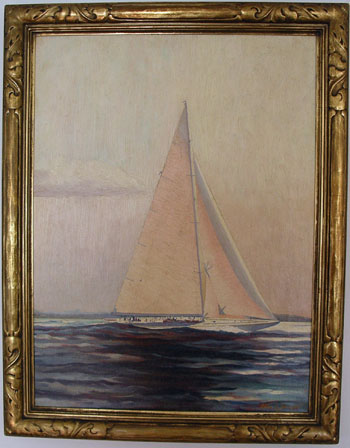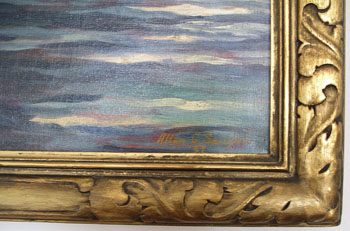 O/C of the J Boat
O/C of the J Boat Ranger by Allen G. Sawyer. Titled: "Ranger Sunlight Through the Sails",
in pencil on stretcher.
Signed and dated LR.
The Ranger was the winner,
of the 16th America's Cup in 1937,
crushing Endeavour II,
the British entry by 4 wins to nil.
She was owned by Harold " Mike " S. Vanderbilt,
and raced under the NY Yatch Club Burgee.
She was 135' long, Had a mast height of 154.1',
displaced 166 tons,
and carried 7,550 sq ft of sail.

Allen G. Sawyer was a New York artist,
and is listed in Who was Who in American Art.
Excellent condition with slight inpainting.
Original gold leaf frame.
All items are Guaranteed 100% as represented!
Claudia & Bob Haneberg
THE HANEBERGS ANTIQUES
By Appointment
860-389-1908