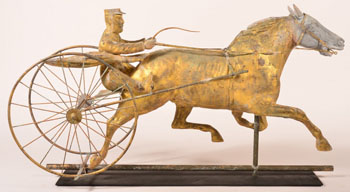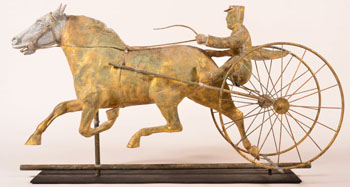 St. Julian by J.W.Fiske
The very best of the harness horse weathervanes,
St Julian by Fiske NYC.
This is one of the most exciting weathervanes,
a collector can own!
St Julian driven by Orrin Hickok.
Copywrighted in 1881 by Fiske and was, unquestionably the best piece of coppersmithing, Fiskes's workers had to offer.
Great form and surface.
Excellent condition with one dent where post, joins the body of the horse.

Dimensions 21" Ht by 40" long

For reference see Page 32 of Steve Miller's,
"The Art of the Weathervane"(Shiffer Publishing,1984)
All items are GUARANTEED 100% as represented!
Claudia & Bob Haneberg
THE HANEBERGS ANTIQUES
By Appointment
860-389-1908