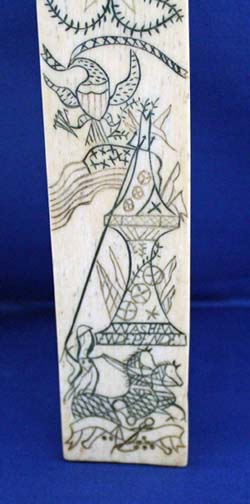 The Capt. Robert Tabor Busk
The Capt. Robert Tabor Busk. It has his initials, engraved on it, possibly as a remembrance,
to his wife.
It has decoration depicting trees, vines,
a memorial monument to Washington,
an America Eagle and the American flag.
Great symbolism.
Captain Robert Tabor was the Captain of the Grand Turk from 1827 to 1829 and he took her on several voyages to the Brazil Grounds. The Grand Turk was built in Bath, ME in 1822 and was broken up in New Bedford, MA in 1843.
All items are 100% GUARANTEED as represented!

We do not sell to states that prohibit the sale of scrimshaw.
Claudia & Bob Haneberg
THE HANEBERGS ANTIQUES
By Appointment
860-389-1908