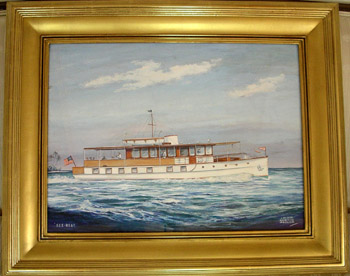 Yacht Painting by John Austin Taylor
Gouche on artists board of Yacht "See Rest"
Signed John Austin Taylor a listed NY artist.
The "See Rest" is underway in southern waters
with passangers and crew.
Mounted in a gold leaf frame under glass. Excellent condition.
The See-Rest was built in 1923 by the
Mathis Yacht Building Co. in Camden N.J.
Her owner was Mr. Oscar C Seebass
of Palm Beach and New York City.
She was 65' 10" long, with a 16' 6" beam
and 3' 3" draft.
She was equip with 2 Gas powered
6 cylinder Nordberg engines.
Dimensions:
Frame: 26" X 21"
Painting: 19 1/4" X 14 1/4" sight
Claudia & Bob Haneberg
THE HANEBERGS ANTIQUES
By Appointment
860-389-1908